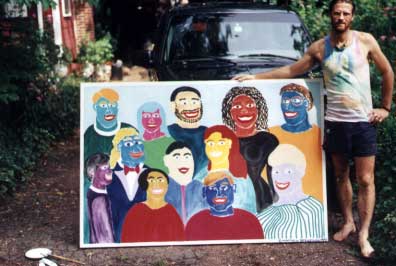 Contact the artist at:
163 viewpoint Dr.
Marion, NC 28752
828-652-6184
email: art4u.matthew@mindspring.com
Dear Friends and Patrons!
Thanks for all your support in the past! To all of you new folks, please note that many of the paintings here are out and about in the wide world! I can make simular ones, subject and colors etc., but being as they are all handmade nothing ever is exactly the same, as it should be with origonal art! Enjoy!
Matthew
A new note: We have started an Art Gallery in Black Mountain, North Carolina! It is called the Fun Art Gallery! It is located at 120 Broadway st. Take exit 64 off I-40, cross the tracks, and it is on the left, set back after the Ginko tree. It is a gray metal building. Sometimes when the weather is good there are paintings out in front of it! Our phone # is 828-669-9009. The website is the fun art gallery.com